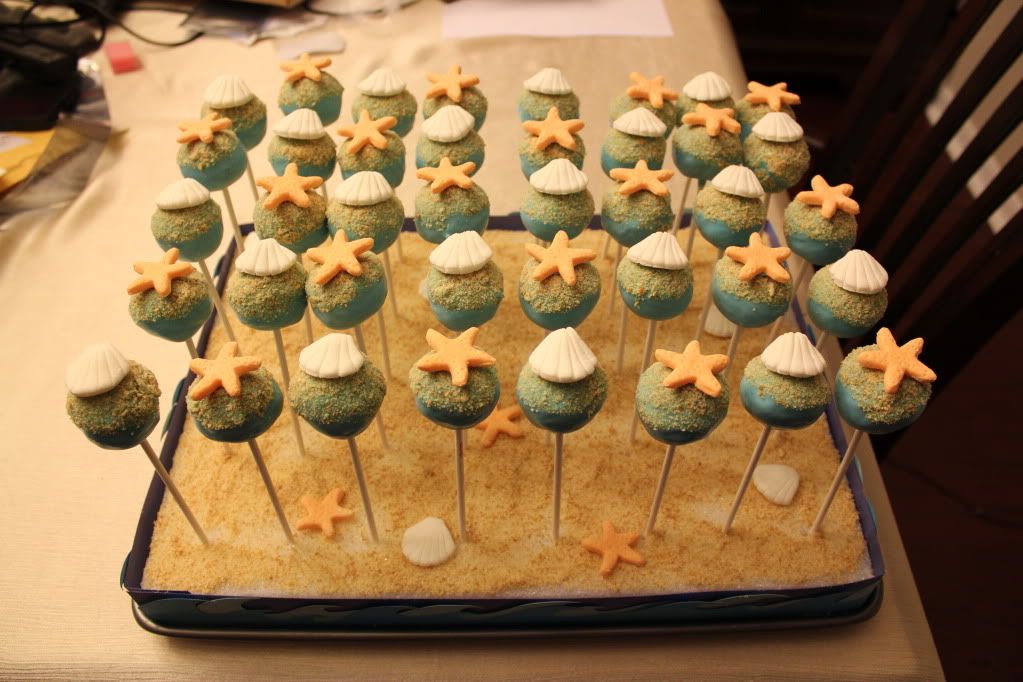 Hi all, it's Brie again. Now that the Saucy Gourmet has made her return to blogging (again), I've been "encouraged" (translation: ordered) to contribute a guest post. Just kidding Mom, you know I love doing them (as evidenced by my long-winded posts)! *Deep breath* Here goes!...
Lately I've begun to worry that the Saucy Gourmet's passion for all things food-related is actually a genetic trait. I've been getting these uncontrollable urges to cook and bake all kinds of things, especially stuff that I've never tried before! My most recent endeavour was something I'd been dying to try for several months now, I'd just never had an excuse. But when my friend's bridal shower rolled around, I finally had my opportunity to try my hand at creating one of the most ingenious and yummy desserts around: cake pops!
Cake pops are a twist on the fairly new craze of cake balls, which are super-indulgent truffle-like desserts. What could be better than little morsels of cake and icing dipped in chocolate, you ask? Little morsels of cake and icing dipped in chocolate and put on a stick! These treats are the brain-child of the woman who started the craze and is arguably the best cake pop maker out there,
Bakerella
. Her blog has all kinds of adorable and whimsical cake pops, along with lots of other types of yummy desserts. It's well worth checking out!
I wanted to make two different flavors, red velvet and yellow butter, and decided I needed a way to tell them apart (they look the same once dipped!) and some kind of topper seemed the best way. That gave me the opportunity to try something else that I've wanted to play with: fondant! Since I wanted to stick with the beach theme, I decided to create fondant starfish for the red velvet pops and seashells for the vanilla ones.
Once my plan of attack was decided, it was time to get to work, starting with the red velvet cake! I baked a 9x13 inch cake using a box cake mix following the instructions on the box. Once my cake was completely cooled and perfect looking, it was time to destroy it! Following Bakerella's instructions, I crumbled my cake by rubbing pieces of it against each other over a large bowl. This gave me pretty consistent-sized crumbs and left it with nice and fluffy texture.
Then it was time to mix in the icing. I decided on traditonal cream cheese icing for both the red velevet and yellow cake pops since it has such a yummy flavor. Bakerella's recipe calls for a full tub of icing, but I found that adding that much to my red velvet cake made my dough a bit too soft, so when I made my yellow cake I cut it to about 3/4s of the tub and that was just about perfect. Oh well, lesson learned!
After the icing was all mixed in, I chilled the dough in the freezer for about 15 minutes just to make it easier to handle. Once it was chilled, I rolled the dough into approximately 1 inch-sized balls and stuck them back into the freezer to set firm up a bit. While they were chilling, I melted some Wilton's candy melts in the microwave, adding a bit of shortening to help thin it out.
Once it was a smooth, runny consistency I dipped the end of a lollipop stick (you can find them and the candy melts at JoAnn's) into the chocolate and inserted it about halfway into a cake ball. I tried dipping the cake pop into the chocolate right away, but found that the chocolate holding the stick needed to set a bit first. So I continued putting all the balls onto the sticks and put them in the refridgerator. I was only planning on leaving them in the fridge for about half an hour, but ended up keeping them in there overnight to give myself time to make the fondant decorations.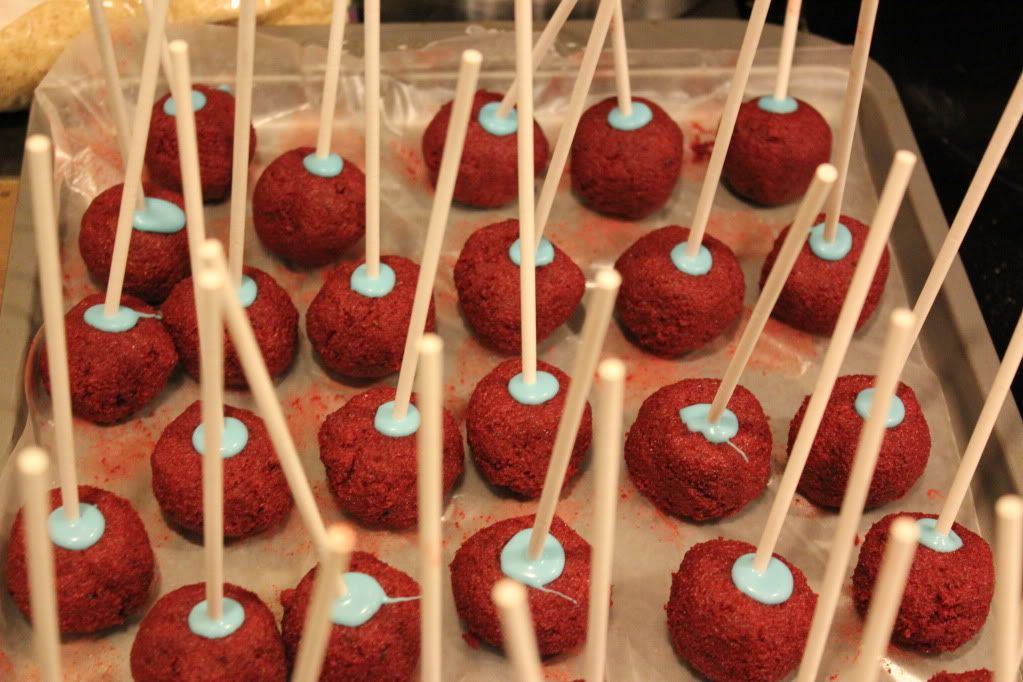 The night before, I had whipped up a batch of marshmallow fondant and left it in the fridge to set up. After taking it out to come to room temperature, I divided the lump of fondant in two and tinted one half orange using Wilton gel colors. I rolled out the orange fondant into a sheet about a 1/4 inch thick and got to work cutting out small stars using a cookie cutter. The shape seemed a bit to thick in the middle for a starfish, so I used one of the points on the cookie cutter to remove a bit of star between each point to make longer, thinner arms. Then I softened the hard edges and rounded the points of the arms with my fingers. Lastly, I used a bamboo skewer to stiple the top of them so that they had a bumpy texture and placed them on a sheet of wax paper to dry.
For the seashells, I didn't have a cookie cutter so I had to get a bit more creative. I used a small circle cutter to cut out rounds from the white fondant and then trimmed off a bit of the sides so that I had more wedge-shaped pieces. I then scored the pieces with a paring knife to give the shells ridges, and lastly pinched the pointed end and curled it under to give the shell some shape. When I set these down to dry, I put a small bit of rolled up paper towel under them to make sure the shells kept their domed shape.
By the next morning they had dried and were stiff enough to keep their shape but still soft enough to eat (they actually tasted very yummy!).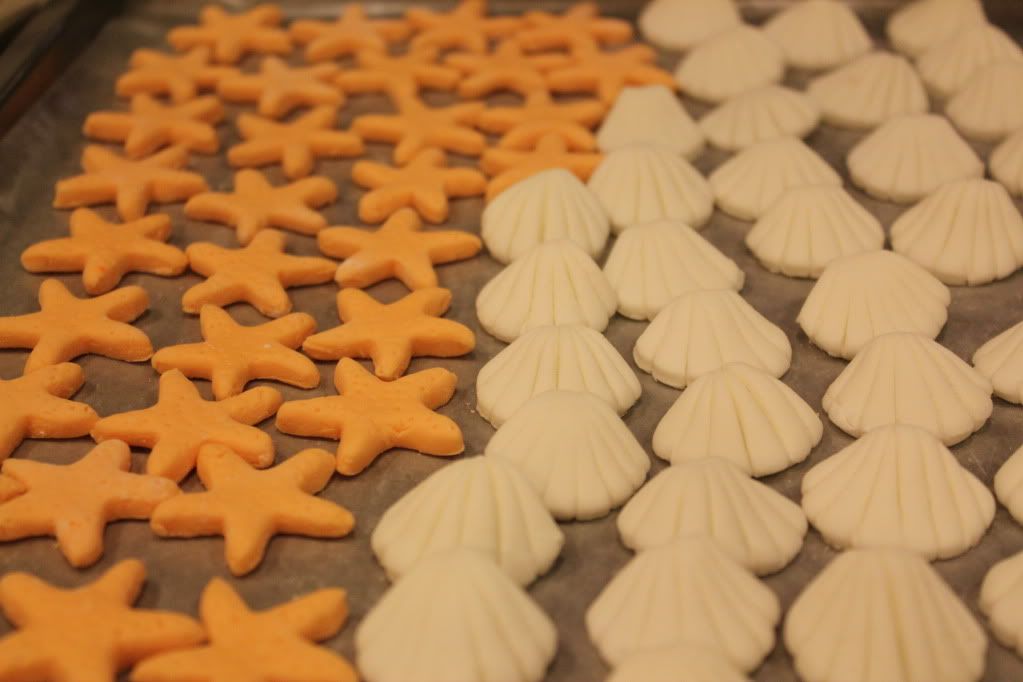 Then it was time to make the pops! In preparation for dipping the cake pops, I bought a large styrafoam rectangle that would serve as my drying rack (I bought a second one for display purposes). In order to try and keep my pops as solid as possible prior to dipping, I only brought out batches of about 5 at a time (if you don't use as much icing as I did, your pops will hold up much better). I dipped each pop into the candy melts and made sure not to "stir" it, which would loosen the stick, but instead rotated and rocked it to get it all covered (for tips on how to do this and an overview of the whole process, check out Bakerella's video
here
). After removing it from the chocolate, I followed Bakerella's instructions and slowly turned the pop over the bowl with one hand while lightly tapping my wrist with the other to help knock off the excess chocolate. To further play up the beach theme, I dipped the top of the pop into a plate of ground-up Nilla wafers to create "sand" and then stuck it into the styrofoam to dry.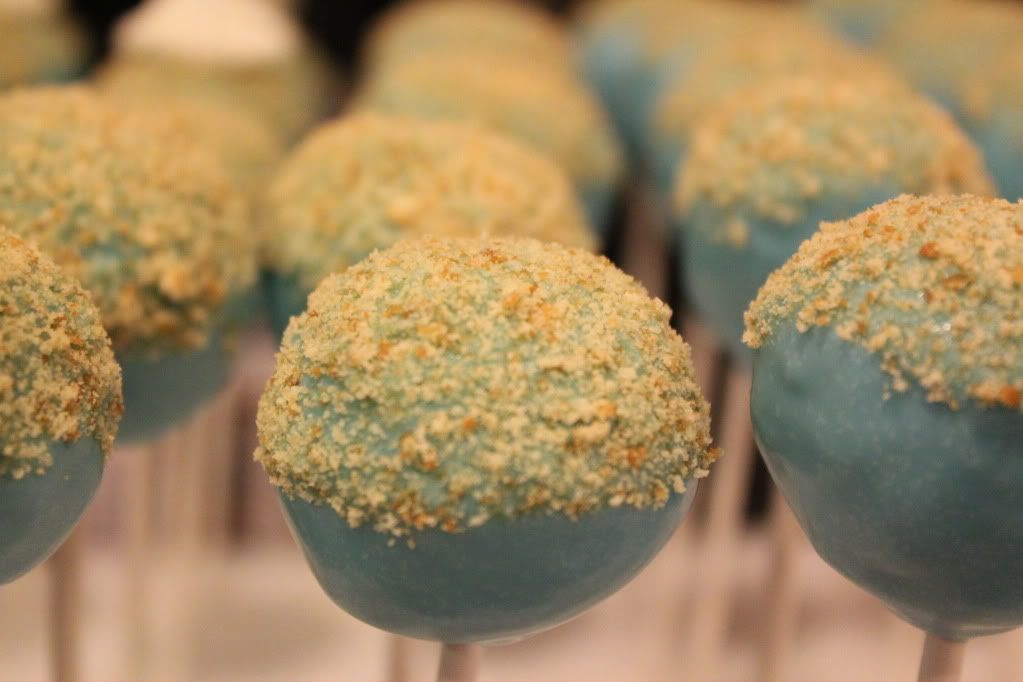 After all the pops had been dipped, sanded, and dried, I put a bit of the leftover melted chocolate into makeshift ziploc icing bag and piped a small amount of chocolate on the top of each pop to "glue" the fondant decorations to them.



After a few minutes, the chocolate hardened and the shells and starfish were solidly set. I transfered as many pops as I could fit to my display piece of styrofoam, which I edged with a border of construction paper waves. The leftover "sand" got sprinkled over the styrofoam and the extra fondant decorations were scattered around as well. The finishing touch was a key to let people know which pops were which.


Cake Pops
(adapted from
Bakerella
)
1 box cake mix
1 can frosting (16 oz.)
1 package Wilton candy melts
1 package lollipop sticks
wax paper
styrofoam block
Bake cake as directed on box for 13x9 cake. After cake is cooled completely, crumble into large bowl by rubbing pieces against each other. Mix thoroughly with a little less than 3/4 of can cream cheese frosting. You need just enough so that it's sticky enough to be rolled. Chill mixture to make it easier to handle. Roll mixture into 1 inch balls and lay on cookie sheet (should make about 40-45). Chill in freezer for about 15 minutes. While balls are chilling, melt candy melts in microwave per directions on package (add shortening as needed to help thin and smooth it out). Dip one end of lollipop stick into melted chocolate and insert about halfway into chilled ball. Set on wax paper, stick upright, and repeat with remaining balls. Put balls into fridge and leave overnight.
When ready, remelt chocolate (if possible, use a double-boiler type setup to keep the chocolate warm and runny). Dip ball into chocolate as far as possible. Rock the ball in chocolate, do not stir. Once covered, remove and softly tap and rotate until the excess chocolate falls off. Don't tap too hard or the cake ball will fall off. Sprinkle on any decorations that you want to be stuck in the chocolate (sprinkles, nonpareils, Nilla wafer "sand", etc). Place in a styrofoam block to dry. Once pops are coated and dry you do not need to store them in the refridgerator (the cold will make the chocolate "sweat" when it's brought back to room temperature). They will be fine left out for a day or two in a cool place, or they can be put into a covered container.
Marshmallow Fondant
(from
AllRecipes
)
1/4 cup butter
1 (16 ounce) package miniature marshmallows
4 tablespoons water
1 teaspoon vanilla extract
2 pounds powdered sugar (one cup reserved for kneading)
Put marshmallows into a large microwave-safe bowl. Microwave on high for 30 seconds to 1 minute to begin melting the marshmallows. For easiest handling, remove marshmallows from microwave and transfer marshmallows to a butter-greased electric mixer bowl. Add water and vanilla extract to the hot marshmallows, stirring with a greased dough hook until the mixture is smooth. Slowly mix in the powdered sugar, a cup at a time, until you have a sticky dough ball that pulls away from the sides of the bowl. Reserve 1 cup of powdered sugar for kneading. The dough will be very stiff.
Rub your hands thoroughly with butter, and begin kneading the sticky dough. As you knead, the dough will become workable and pliable. Turn the dough out onto a work surface dusted with powdered sugar and continue kneading until the fondant is smooth and no longer sticky to the touch (about 5 to 10 minutes).
Form the fondant into a ball, wrap it tightly in plastic wrap, and refrigerate overnight. To use, allow the fondant to come to room temperature, and roll it out onto a flat surface dusted with powdered sugar.